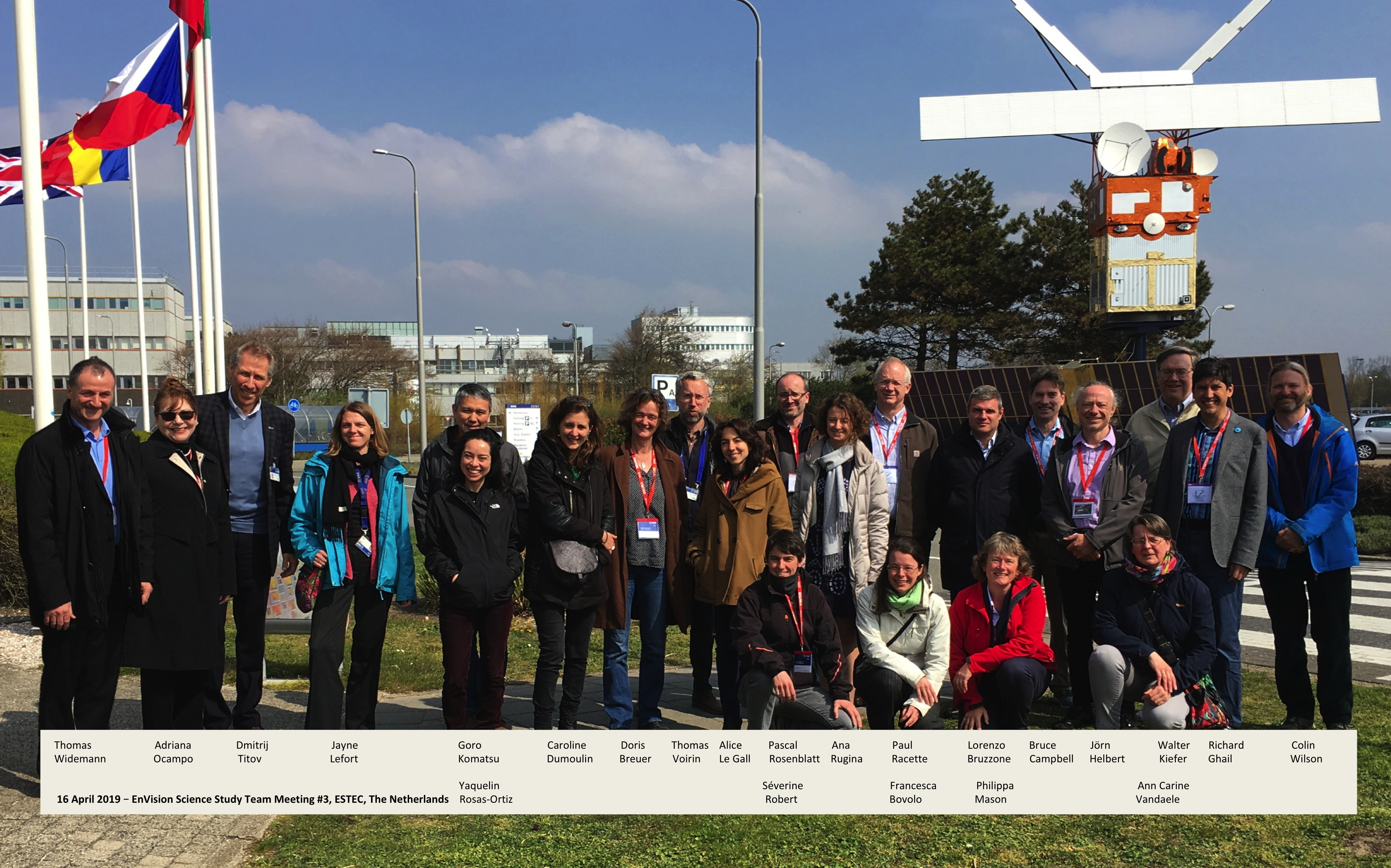 ESA-NASA consortium
The mission is studied in collaboration with NASA, with the potential sharing of responsibilities currently under science, technical and programmatic assessment.

EnVision proposal team
Richard Ghail
Radar Systems Engineering
Lead proposer
Jörn Helbert
Thermal Infrared Mapping, Mineralogy
Lorenzo Bruzzone
Subsurface Sounding
Thomas Widemann
UV, Visible and Infrared Spectroscopy
Deputy lead
Philippa Mason
Surface Processes
Colin Wilson
Atmospheric Science
Deputy lead

Caroline Dumoulin
Interior Structure and Dynamics
Ann Carine Vandaele
IR Spectroscopy, Volcanic Gases
Pascal Rosenblatt
Spin Dynamics
Emmanuel Marcq
UV Spectroscopy, Volcanic Gases
Principal Investigators (PIs)
VenSAR – Richard Ghail, Royal Holloway, University of London, UK
VenSpec-M (VEM) – Jörn Helbert, DLR Institute of Planetary Research, Berlin, Germany
VenSpec-H (VIVO) – Ann Carine Vandaele, Royal Belgian Institute for Space Aeronomy (BIRA/IASB), Belgium
VenSpec-U (VeSUV) – Emmanuel Marcq, LATMOS, IPSL, France
SRS – Lorenzo Bruzzone, Università di Trento, Italy
Radio Science – Caroline Dumoulin, LPG, Université de Nantes, France ; Pascal Rosenblatt, LPG, Université de Nantes, France
Science Study Team (SST)

Veronique Ansan, LPG, University de Nantes, France
Francesca Bovolo, CICT, Fondazione Bruno Kessler, Italy
Philippa Mason, Dpt. Earth Science & Engineering, Imperial College, London, UK
Richard Ghail, Dpt. Earth Sciences, Royal Holloway, University of London, UK
Colin Wilson, Dpt. Physics, University of Oxford, UK
Thomas Widemann, LESIA, Observatoire de Paris, France
Bruce Campbell, Center for Earth and Planetary Studies, National Air & Space Museum, Washington, DC
Doris Breuer, DLR Institute of Planetary Research, Berlin, Germany
Walter Kiefer, Lunar and Planetary Institute, Houston, TX
Goro Komatsu, IRSPS, Università degli Studi G. d'Annunzio Chieti e Pescara, Italy
Alice Le Gall, LATMOS, IPSL, France
Livelink (restricted access)
ESA Study Team

| | |
| --- | --- |
| Thomas Voirin | EnVision study manager |
| Dmitrij Titov | EnVision study scientist |
| Ana Rugina | EnVision study system manager |
| Jens Romstedt | EnVision study payload manager |
| Jayne Lefort | EnVision study operations manager |
| Arno Wielders | EnVision study deputy payload manager |

EnVision Science Team
The EnVision Science study team and the EnVision proposal team are gathering support from the larger science community to form the EnVision Science Team.